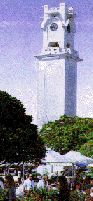 Ξανθη ( Xanthi )
  map of Greece
The city of Xanthi (polulation ~40,000), the prosperous capital of the County of Xanthi, stands at the opening of the narrow upper valley of the Kosinthos River. The city is linked by bus and train with Athens, Thessaloniki and all major cities of Greece. It is located 220 km (140 mi) east of Thessaloniki on E-90 (Egnatia Odos). The airport of Chrissoupolis (almost midway between Kavala and Xanthi) provides air services to Xanthi.

Xanthi hosts the School of Engineering of the Democritus University of Thrace, composed of the Departments of Civil Engineering. Electrical and Computer Engineering, Environmental Engineering, Architectural Engineering, and Production and Management Engineering.

A main attraction is the beautiful traditional houses of Old Xanthi which cluster on the hillside to the north of the modern town and below the Byzantine castle (sections of fortification visible), which was built to defend the city from Bulgar incursions.
A view of Xanthi
There is a Folk Life Museum, a Museum of Natural History, and the Association for Letters and Fine Arts maintains a public library. The Cathedral has a collection of icons, manuscripts and church plates. On the higher slopes are some monastries, one of which, the Moni Megiston Taxiarchon, houses the Ecclesiastical College of Xanthi.
Byzantine Xanthea grew below the castle. A mere summer resort under the Turks, Xanthi has, since the coming of the railway, superseded Yenisea as the centre of the fine tobacco growing area. A brand of cigarettes (kiretsiler), obtainable only locally, is much prized. The lower town has been considerably rebuilt in recent years, but in the old city there are some delightful streets of old buildings with small shops, cafes, tavernas, etc.
From the old city
---
Modified from original at Democritus University of Thrace, http://www.duth.gr
---
....... back to V. Alexiades Math Dept Page